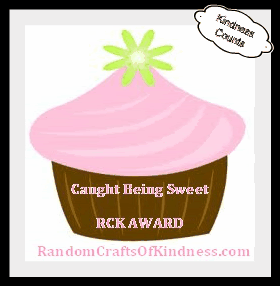 The Caught Being Sweet Award comes from ScrapHappy Paper Crafter and
www.RandomCraftsofKindness.com
.

This award goes to those bloggers that are caught doing a Random Craft of Kindness for others.

Thank you for all that you do!
This weeks' Caught Being Sweet RCK Award goes to….
Norma is an awesome paper crafter, mother, and blogger that does great giveaways every month for her followers.

She creates tutorials and does crafts of kindness for others at her own expense.

We truly appreciate all that she does for the crafting community to help promote the love of a little "craft therapy."

Thanks Norma!
http://pinkblingcrafter.blogspot.com/
The Jellypark Challenge Blog
The artist, Claire Keay creates the Jellypark digis.

One of the great Random Crafts of Kindness that Claire promotes is her Charity Digi Stamps.

Profits from the sales of some of her digis go to help different charities in need.

The Jellpark Challenge blog also promotes the love of crafting and sharing that joy with other crafters.

Thanks for all that you do for the charities that you support Claire!
http://jellyparkart.blogspot.com/