The caught being sweet RCK award is awarded to those crafters that have done a Random Craft of Kindness for someone else. I will award these whenever I see someone doing a RCK. If you see another blogger doing one you can submit their post to me so I can award them with this button. It's good to let them know that we appreciate what they do for others.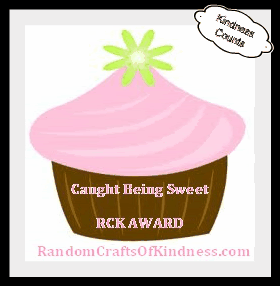 This weeks firsrt award recipient goes to Madison over at
http://www.funkycards.blogspot.com/
. Madison hosts the monthly "Feel The Love" project in which she promote Random Crafts of Kindness through handcrafted cards that go to a good cause each month. This month she is sending cards to a very sick little girl that needs some encouragement right now. Last month she sent cards to active duty service members getting ready to be deployed. Thank you for your crafts of kindness Madison.
The second award award recipient goes to Paulette at Create With TLC. If you have not checked out her blog it is a great place to go to get excellent free sentiment digis. Thank you Paulette for all that your team does for the crafting community!!!
http://createwithtlc-createwithtlc.blogspot.com/